You can quickly establish a sense of enhanced privacy for your garden with the right ornamental grass. You don't need to invest in a new structure to do this. Planting specific tall ornamental grasses provides you with this privacy feature. When wishing to achieve this privacy, fast-growing ornamental grass comes highly recommended for anyone wishing to block out the view of a neighbor's property in an inexpensive method.
A variety of plants can be used to achieve privacy, such as shrubs and evergreen trees. However, tall ornamental grasses are known to be the most practical option. This is because of the fast-growing rate that these grasses feature. A fantastic feature about these tall ornamental grasses is that if a part of these specimens die, the gap that becomes present after the specimen's death is rapidly replaced by a new cultivar's growth. These plants also have the ability to flourish higher than four feet tall with full sun to part shade.
What Are Tall Ornamental Grasses?
You might be wondering what ornamental grass is. Many gardeners consider these plants as being anything where you get narrow and long foliage. In addition to this, it's expected that these plants grow in the same way. However, some of the best and most common 'grass' structures are actually grass-like perennials. Genuine ornamental grasses are equipped to include genera within the four main variants. These are sedges, plants, reeds, and rushes. All of these variants have entirely different requirements while spreading in varied ways. Ornamental-type plants are hybrids of grass-like perennials and work well in providing privacy and block views to any garden. 
Why Should You Use Tall Ornamental Grass for Privacy?
This type of grass is widely known for its rapid growth potential. Thus, you're able to maintain the privacy structure that you set up using this grass. It also works best in full sun to part shade conditions, which means that you have the choice of planting it everywhere you wish. Not to mention, it also works as a very versatile cultivar that can grow in many different temperatures. Its height is very tall, as some can grow as tall as 10 to 12 feet. In addition to this, it also grows wide. Therefore, you're able to gain a broad and tall privacy structure when growing this grass. All of these features make it an exceptional choice if you're looking for added privacy in your garden. 
What are the Best Giant Ornamental Grasses for Full Sun to Part Shade Conditions?
As we have mentioned, this type of grass is a great option if you're looking for a plant that can grow into an excellent privacy structure. With that being said, there are different variations, which can make choosing a specific plant that you would like to incorporate into your garden quite challenging. For this reason, we have developed a list of the best tall ornamental grasses to help make your decision easier. Here are our top picks: 
#1 Pampas Grass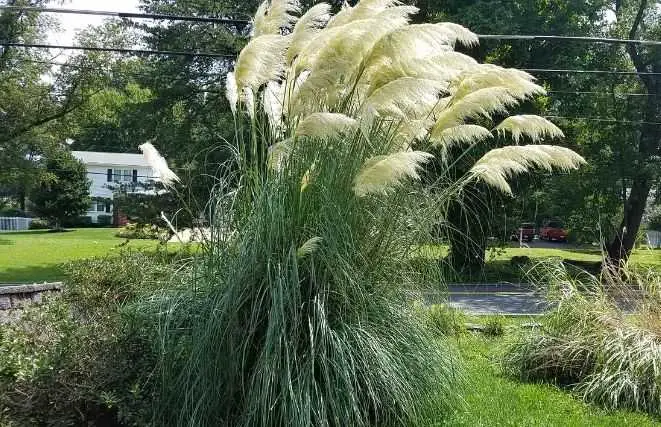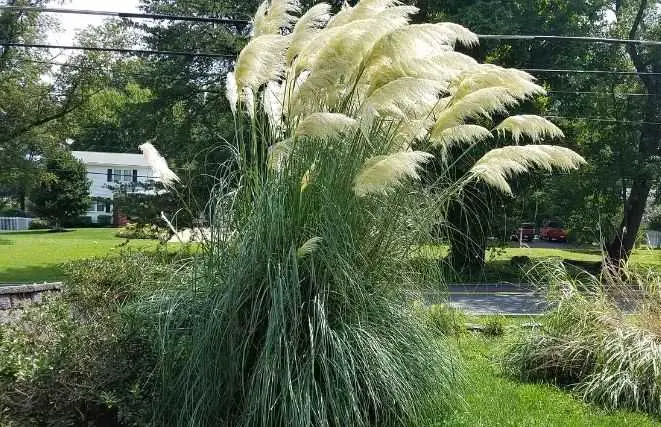 Pampas grass features large clumps of lush-looking foliage and is known as being a great choice if you're looking for additional privacy in any area. This is known as one of the elegant variations of the native cultivar and offers an easy growing process. This pampas grass is also known to get really massive. Some of these specimens can reach up to 10 feet tall. You need to be careful when it comes to controlling this grass's spread, as it's known to grow and spread extremely quickly. Although it works as an excellent privacy feature, it can also take over your garden.
In addition to this, you should make sure that you choose this pampas grass's tender type. This is known as Cortaderia selloana. When looking at these plants, there are other varieties that you can choose from, but these are more invasive and less attractive. The elements making up these plants ensure that this grass performs in various temperature and light conditions while growing.
However, pampas grass grows best under full sun to part shade conditions. Not to mention, it remains a beautiful structure even in the colder seasons. This pampas grass can tolerate various common problems that affect other plants, such as varied soil conditions, pests, and droughts. For these reasons, it works to create a dramatic backdrop while offering privacy in your garden.
#2 Feather Reed Grass
The Feather Reed Grass is one of the most popular types of privacy grass that you can include in your garden. This grass boasts an extremely stylish upright look and offers excellent potential as a privacy structure. One of the best features about this Feather Reed Grass is that you can enjoy it all-year-round. However, this is dependent on the location you're planting this grass in your garden. Nonetheless, areas with warmer temperature conditions can expect to enjoy this grass in the winter months.
This feather reed grass can also grow in cold-hardy conditions. It can grow up to six feet in height when placed in areas with harsher climates. There are several species that you can consider including in your garden. Some of these species can be softer, while others can be wider or sharper.
Feather Reed Grass generally prefers moisture-retentive soil. However, you shouldn't encounter any problems if you decide to plant this grass in drier soil. One secret to successfully growing this plant is to nurture it well during the new growth, or initial stages until it grows into a fully established and mature plant in your garden. The plant is known for being sun-loving and can be combined with other perennial plants known to bloom at smaller heights. This can be done to establish a beautiful architectural appearance while providing an effective privacy structure that stands about 4 feet tall.
#3 Pink Muhly Grass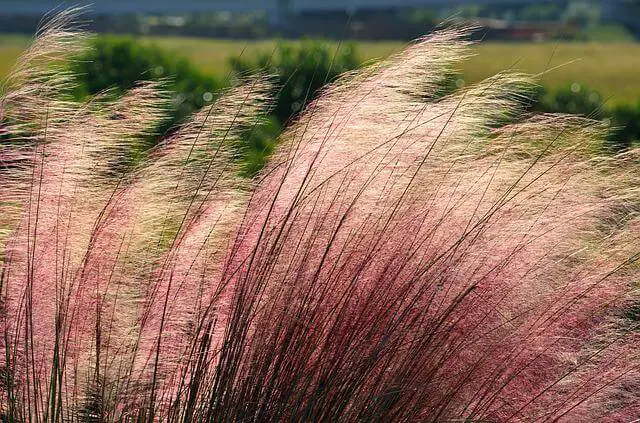 If you want a striking privacy structure, Pink Muhly Grass is the best choice for you. It boasts an appearance that resembles cotton candy that's floating gracefully in your garden. This is a great grass to use as a privacy measure, as it features dense foliage and vibrant red-pink flowers. The beautiful color included in the plant is retained for reasonably long periods. For a short amount of time, this color transitions into a light tan. Not to mention, this Pink Muhly Grass is also able to keep its beauty throughout the winter season.
#4 Zebra Grass
It's no secret that Zebra grass is equipped with a distinctive style that's fitting to work as an ornament in your yard, as well as a privacy structure to block the view of your neighbor's property. This added privacy feature is thanks to its thick display of foliage. In addition to this, the grass boasts a rich and elegant gold appearance throughout the summer and spring season. After this, the plant fades not a tan color during the fall and winter.
Not to mention, the plumes included in this Zebra grass have a delightful pink appearance that incorporates great copper hues, which makes the grass stand out in any area you decide to place this plant in your yard. This perennial Zebra grass is known to reach seven feet tall while being six feet thick. With that being said, this Zebra grass needs a decent-sized area in order to spread its roots.
There aren't strict growth requirements for this Zebra grass. This plant thrives when placed in areas that receive full sun. The soil used should also be well-drained. One amazing feature about this zebra grass is that you don't need to worry about the soil's fertility. This is because the grass is equipped to handle a vast range of soil types. Anyone can plant this grass, as it's usually not affected by pests or diseases easily. It also boasts incredible versatility, which means that it can be planted as hedges or screens to accent your garden or enhance the privacy of your home.
#5 Fountain Grass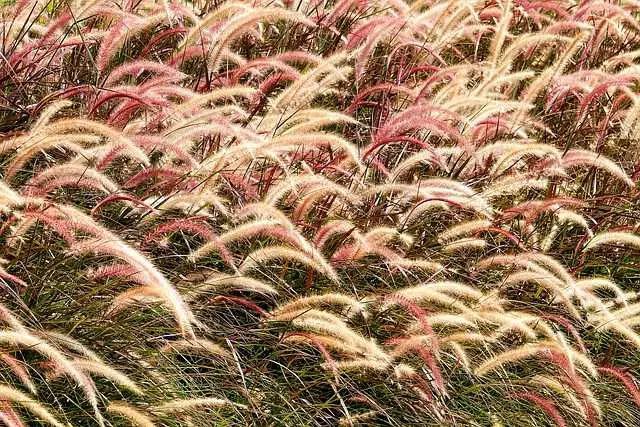 Fountain grass is native to Eastern Asia and Japan and offers a graceful look with its cascading foliage that's known to sway effortlessly in the wind. It comes with a basic maintenance procedure while offering a stunning appearance. There are also dwarf cultivars of fountain grass available, which is why you make sure that you're purchasing the right plant that grows at less than seven feet tall if you want it to serve as a privacy screen. Some only reach as tall as 4 feet. This fountain grass is also seen as a great option if you're looking to decorate beds and borders. This is due to its textural feel of the plant. It also flourishes during spring.
#6 Big Bluestem Grass
Big Bluestem Grass is known to reach up to eight feet tall. This makes it excellent for privacy planting. However, it doesn't have a beautiful appearance. It looks similar to a turkey's foot because of the seeded branches breaking into three different parts. One of the best features about this Big Bluestem grass is that it's well-adapted to drought while having the ability to handle a variety of different soils. All that you need to plan for is that this Big Bluestem plant receives enough sunlight. Thus, placing the Big Bluestem in an area with full sun to part shade would be beneficial. This plant is also non-toxic, which makes it a great addition to any yard.
#7 Switchgrass
Switchgrass can reach up to eight feet tall, which allows it to form a clump of blue-colored foliage. In addition to this, it also boasts a golden appearance in the summer. This is due to the flower panicles that are nicely-textured. This color only intensifies until it eventually reaches a striking dark golden look in fall. This switchgrass is also known to have a long lifespan and is a North American prairie grass that works well in moist soil. It also works as an excellent privacy structure, as it can reach up to a little over eight feet.
There are multiple specimens of switchgrass that have appearances that look more impressive and elegant. In addition to being excellent for privacy, it also works well if you want to enhance your garden's overall appearance. This is because it works to add nice texture and colors to the borders of your yard. Not to mention, this switchgrass plant performs incredibly well under full sun to part shade environments and can be placed in a little drier or moist soil. There aren't any severe disease or pest issues to fear when caring for this plant. The majority of scientists believe this switchgrass to be incredibly robust and sturdy when it comes to growing in drought periods. This plant is known to handle the winter period with elegance and while providing a variety of benefits, such as protection for birds. This is with one exception, which is very snowy areas.
#8 Fargesia Robusta Bamboo
A massive misconception is that bamboo is a tree. This isn't true, as it's actually one variety of grass. There are multiple varieties, such as Fargesia Robusta Bamboo, which can successfully be used as a privacy screen for your yard. In addition to this added privacy feature, it also offers an exceptional appearance that can enhance your garden's overall look.
With that being said, it's crucial to purchase Fargesia clumping bamboo varieties. This is because other bamboo types are generally too invasive and can be a problem when it comes to controlling the plant. In addition to this, Fargesia Robusta is known as an exemplary bamboo type, which works to create a stunning dual-color display. The beauty behind using Fargesia Robusta bamboo is that it's straightforward to grow without much input from the gardener. Not to mention, it reaches impressive heights and there are a variety of bamboo options that can stand up to 15 feet.
Unlike the other options on this list, the plant doesn't require full sun to part shade. In fact, it can work incredibly well even when it's placed in very shady areas. Thus, you aren't restricted to areas in your yard. This means that you can gain a privacy structure wherever you would like in your yard without having to worry about the sun being a factor. All of these features make this bamboo and an excellent choice if you're looking for a privacy feature.
Conclusion
Evergreen ornamental grasses
Tall Ornamental grasses are beautiful and durable plants that can be used in many different landscapes. However, there are many different types of tall ornamental grasses.
Evergreen ornamental grasses also require less maintenance than other varieties because they don't need to be pruned or trimmed very often. When they do need to be trimmed, however, it's usually a quick and easy process because the blades of the shears simply glide through these stalks easily without getting caught on any spiky or sharp edges.
Privacy grass
There are many potential solutions that have been proposed by various experts. One of the most promising is a type of pampas grass that can grow taller than people and block line of sight to those on the other side.
Some plants, such as bamboo and ivy, can grow as high as 20 feet in some cases and provide some degree of privacy if they are not trimmed back. Plus, these plants do not require any type of upkeep which makes them attractive options for those looking for a more eco-friendly solution to keeping their space private.